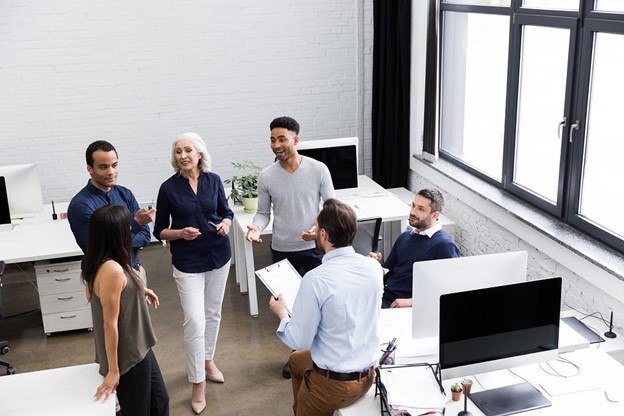 07 Dec

How To Get The Most Out Of Your Employees

Posted at 09:30h

in

Career Development

,

Employee Engagement

,

Employer Branding

,

Featured

,

HR Strategy

,

Leadership Development

,

Managing

,

Motivating Employees

,

Organisational Change

,

People Management

,

Performance Management

,

Workplace Culture

0 Comments

Every business owner wants to get the very most out of their employees, and there's nothing unusual about that. If you want to make sure that your business grows and thrives in the short-term and for a long time to come, it's going to have to be a team effort that gets you there.

So what can you start doing differently if you want to make sure that your team is delivering to the best of their abilities? You can't just demand more from them and expect them to deliver because it doesn't work like that. Here are some of the things you can do to promote and encourage better outcomes from your staff members.
Get Everyone Behind the Collective Mission
You'll find that everyone inside your business performs better and gives their all when they're fully behind the mission and everyone is pulling in the same direction. That sense of working together and pulling their weight is a powerful one. Everyone wants to be part of something that's bigger than themselves, and it's up to you to create that kind of feeling inside your workplace if you possibly can.
Make Them Believe in Their Own Abilities
You need to do what it takes to make them believe in themselves and their ability to succeed. You won't get the most from your employees if they're feeling down on themselves and short on confidence. Unfortunately, it's those kinds of things that often result in people not fulfilling their potential in the workplace, and that's obviously not what anyone wants. So try to be a better motivator and show them what they're capable of.
Create a Culture That's Based on Transparency and Feedback
If you want to get more from your employees, it makes sense to take a look at the company culture inside the business and how that's impacting the performance of staff members. You want to create a culture of transparency, openness and constructive feedback. You want the workplace to be a safe space for everyone and an environment in which everyone is looking to lift each other up and do better. If you're being more transparent too, they'll feel a part of the team rather than disposable employees.
Provide Them with the Best Technology
The resources that your employees have at their disposal in the workplace each day will go a long way towards dictating how successful they'll be at improving themselves and their performance at work. It's in your best interests to provide them with the technology that's going to help them with being the best version of themselves they possibly can be.
Make Space for Risk-Taking
You need to make sure that people feel able to take risks when working for your business. If people don't feel that way and they feel as if they're constrained by your demands and expectations, it'll stifle creativity. You'll miss out on so much when people don't feel able or empowered to take risks as they do their jobs. So be sure to make space for that in your workplace.
Have Their Back When There's a Problem
If there are problems that your employees face, you should be there to support them. This is something that can mean many things and take many different forms. It might mean being there to support them if they need time off or a little flexibility because of things going on in their personal life, for example. It might mean offering them the legal support they need if they suffer an accident or get involved in an accident while on the job. For example, drivers working for companies would offer them legal representation if they're involved in a crash. You could provide them with a truck accident personal injury attorney or whatever kind of legal representation they need.
Consistently Provide Them with New Training Opportunities
Finally, you should make sure that you're always providing your team members with new opportunities to develop themselves and learn more skills. Obviously, it's something that benefits them a lot, but it also benefits you and the business just as much too. When they have more skills and more advanced capabilities, they'll perform better for the business as a whole.
As you can see, there are plenty of things you can do for your employees that'll really show them that you care and that you want to assist them in doing their best work. With a collaborative approach, you'll have no trouble getting the most from them.
About the author
Jeremy Bowler
Jeremy Bowler is a full-time copywriter of five years specialising in business and finance. Jeremy graduated from the University of Chester with degrees in business accounting and finance. He's an avid traveller and has taught English in Nepal, Malaysia, and Japan and has produced copy for Neil Patel, Entrepreneur and Metro amongst many other high-end publications.