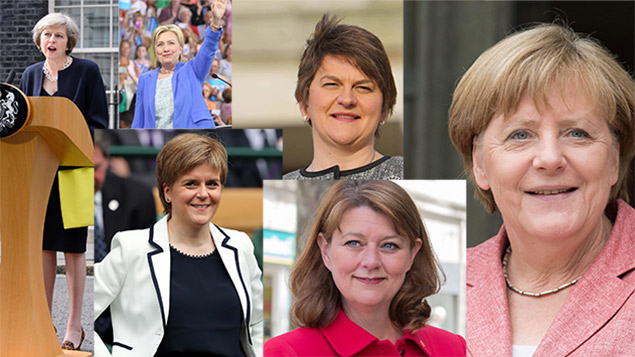 01 Aug

Women in leadership and five actions for HR

Written by Rosie Bailey, first published on PersonnelToday.com

The remarkable rise of women in politics shows that it is time for a different style of leadership, says Rosie Bailey, who provides five actions for HR practitioners.

The rise of women in political leadership roles is a tell-tale sign that the glass ceiling has finally been broken. Theresa May has become the UK's second woman prime minister and Nicola Sturgeon and Arlene Foster are the first ministers of Scotland and Northern Ireland respectively.

Internationally, German chancellor Angela Merkel is the stand-out European politician and Hillary Clinton is in the frame to become America's first female president.

And it is not just affluent Western nations that are appointing women as heads of state. Chile, Liberia, South Korea and Taiwan are among the growing number of countries that now have female presidents.

Politics used to be led by men, so the emergence of so many female leaders is noteworthy. One reason why this is happening is because pioneering women have paved the way.

When Roger Bannister ran the first sub-four-minute mile in 1954, he debunked the myth that this feat was impossible. Once that psychological barrier had been overcome, other athletes followed his lead.

In British politics, Margaret Thatcher's success set a precedent and proved an inspiration for many women to enter the political arena. The same could be said of India's Indira Gandhi, Israel's Golda Meir and Pakistan's Benazir Bhutto.

Critics of Thatcher argue that she consciously changed her image and her voice to become more "authoritative" in the male bastion of Parliament. She may not be a perfect role model but by being "first", she has undoubtedly made it easier for another woman to become prime minister.

In business leadership, there are many female role models. The chief executives at IBM, General Motors, PepsiCo, Xerox, Yahoo and YouTube are all women. Their success provides further proof that the glass ceiling has been shattered – and that a broader range of career opportunities are now open to young women.

No doubt these leaders are inspiring a new generation of girls who have been encouraged to study science, technology, engineering and maths subjects at school and attend university.

Yet I would advocate that these businesswomen and female politicians are significant – and not just because they are role models. The great advantage of having them at the helm is that they bring a different style of leadership to men; one that is particularly suited to the challenges of today.
Differing leadership styles
As John Gray highlighted in his 1992 bestseller "Men are from Mars, women are from Venus", there are fundamental differences between men and women. These discrepancies create different leadership behaviour.
Typical "male" qualities include seeing the big picture, being commercially minded, managing financial metrics and expressing views with confidence. These attributes, which fuel the rational goal of achieving results, have helped men to win senior positions.
On the other hand, typical "female" qualities include emotional intelligence, empathy, listening, interpersonal and communication skills, compassion and multi-tasking. These strengths are based around relationships.
Organisations need both "types" of leadership. However, there is a growing demand for leaders who can inspire and engage their employees, encourage adaptability and innovation, foster collaborative teams and create a great place to work. I would argue that women are now being promoted to senior positions, not just on merit, but because they offer a style of leadership that can deliver this.
However, organisations cannot force this issue or manufacture such an outcome. It is no good applying quotas for women in leadership or making box-ticking appointments. The right person has to be appointed for each role. All you can do is create the "context" in which men and women can thrive in organisations. Here are five ways to achieve this:
Five actions for HR
1. Tackle unconscious – and conscious – bias
The biggest barrier to women's progression in organisations is unconscious bias. This can occur in recruitment, talent development and succession planning initiatives, when male interviewers choose candidates "in their own image".
Of course, bias can stretch beyond gender to ethnicity, sexual orientation, class, age and religion. To overcome this, run workshops for your staff – particularly for interviewers and assessors – to raise awareness about the dangers of bias and how to minimise it.
2. Promote equality
This starts with having equal pay and reward systems for men and women. When one person is paid less than another for the same job, it is hard to see them both as equals. That simply reinforces unconscious bias. Men and women should be given an equal opportunity to succeed in your organisation.
3. Offer career guidance
Both genders will benefit from thinking about their career goals and what roles and projects will provide them with the necessary skills, knowledge and contacts to achieve their ambitions.
However, this is particularly relevant for women in their late 20s, as this is when career-shaping events tend to happen and it is also when many women choose to start a family. They need to be aware of the choices they have, should they want to come back to work.
4. Implement and support flexible working
There should be no "penalty" for anyone with childcare or elderly care responsibilities who wants to work flexibly. This may involve a cultural change in the organisation to overcome the perception that unless you're sitting at a desk, you're not working.
5. Provide workshops and coaching
One-to-one coaching is, of course, relevant to both genders and it can support a 70:20:10 approach to learning and development. Interestingly, the issues covered in coaching may be very different for women than for men. Many women have "limiting beliefs"; they lack confidence in their own strengths and abilities and this can put them off applying for senior roles.
Coaching can help them to make the most of their opportunities and deal with any challenges that they may be facing. These may be issues around personal impact, assertiveness, "becoming more commercial" and having the courage of their convictions.
The issues for men may be more about developing self awareness and empathy. Men sometimes believe they need to be tough, decisive and charismatic to be a leader. Coaching can help them to develop a broader range of responses, so they can flex their style to suit the circumstances.
For a woman, highlight how coaching can enhance her working relationships; for a man, highlight the business benefit he will gain from coaching.
Succession planning
The rise of women in senior roles in organisations is a healthy step towards a point where leadership is genuinely representative of the workforce. Succession planning should not be a competition between the genders, where one succeeds at the expense of the other.
Employers should aim to achieve a win-win for men and women. That way, you have more chance of maximising and retaining your talent and you are more likely to appoint the best people into your senior roles.

About the Author

Rosie Bailey is co-founder and principal consultant at global learning consultancy OnTrack International and has extensive experience of developing senior leaders. She has a lively, entertaining and dynamic style and works internationally within many sectors and industries as a coach, mentor and facilitator.

Subscribe for the best of HR Management direct to your inbox: