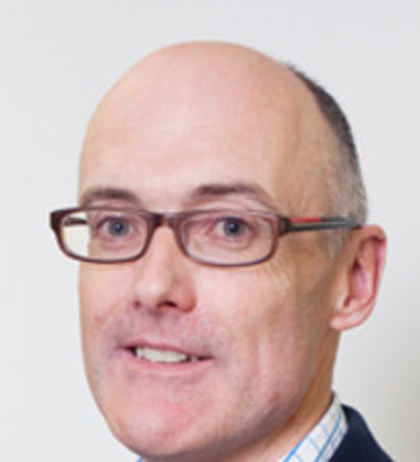 26 Nov

Interview with HRD Amnesty International: Managing change in a tough environment
By Katie Jacobs – hrmagazine.co.uk
For Richard Eastmond (pictured), a role at Amnesty International tapped into his ethics of fairness but the measures he is taking to adapt a Non-Governmental Organisation (NGO) are risking an ideological rift.
Fresh out of university after completing his management degree, Richard Eastmond was well and truly thrown in at the deep end. As a student, he'd completed a nine-month placement at the country's largest printing factory, just after the Wapping dispute, and witnessed an all-out strike for the duration. Fired up by the industry, he joined the now defunct British Printing Corporation as the HR director's right-hand man, before becoming HRD himself by the tender age of 27.
"In my first week out of university, I was in charge of setting up a printing plant in King's Cross and recruiting 120 people," he recalls. "They should never have given me that job." If those 10 years of professionalising the industry and raising engagement while practising "relentless cost-cutting" gave him a good grounding in change management, his next roles at educational publishers Reed Elsevier and LexisNexis, overseeing international M&A activity and digital transformation, sealed the deal.
Now, Eastmond is a change master, and that's something he certainly needs in his current role. As senior director for OD and HR at Amnesty International, he's steering the globally renowned NGO through one of the most difficult OD challenges in its 52-year history. Amnesty's organisational structure is in the middle of being decentralised, with the number of staff in its two London headquarters (Amnesty International UK and Amnesty International) due to be slashed as 10 regional hubs are set up internationally over the next three years. Whereas now only 10% of Amnesty's workforce is based overseas, that will rise to about 60% by 2016. The first hubs will open in Hong Kong, Nairobi, Dakar and Johannesburg this year.
"Over the last decade, the world has fundamentally changed," Eastmond explains. "Fifty years ago, you could set up a human rights organisation in the global north and preach to the global south about sorting out their human rights. But post-9/11 and with the rise of the BRIC nations, that's no longer appropriate, understood or accepted by an increasing number of countries. By setting up hubs in the global south, we're going to be much closer to human rights abuses and have greater legitimacy and ability to influence things."
As a new model, it appears to make sense, but it's fair to say it hasn't been the most popular scheme among all UK staff. When HRmagazine visits, it's the week before the first 60 people are due to be made redundant and Eastmond candidly admits the atmosphere isn't too healthy. "Coming out of this change programme, we will not be winning the Great Place to Work Award for 2013," he says with refreshing frankness. "We have a lot of work to do on engagement and building trust and confidence. People are very engaged in their part in what Amnesty does, but one of the big challenges is creating a real sense of cohesion."
The change programme has been so unpopular that last year staff from several offices globally, including London, went on strike. As well as unhappiness over redundancy conditions, an ideological rift over Amnesty's future direction makes Eastmond's job even harder. "My role was grossly undersold," he says, only half joking. "We are strange as an organisation because our income is rising. The redundancies we are making are not about cutting costs, they are about organising in a different way. There are clearly some people who believe we are better placed doing our work the way we're currently structured, and lots who are sitting on the fence waiting to see if we can make it work.
"You have to argue, articulate and demonstrate why you want to do anything," he continues. "It's sometimes challenging to get people to disconnect their own personal contribution with the 'corporate' Amnesty changing direction." He is sanguine about the industrial action. "We are a movement heavily rooted in the trade unions and we employ people to hold governments to account, so they sure as hell hold the management to account."
It's a complex, multi-stakeholder environment, with members able to influence the strategy and direction of the movement – so much of Eastmond's focus is on helping leadership to navigate this. He says management in the past hasn't been as good as it could be. Now the organisation is investing in getting senior leadership to work as a high-performing team. Amnesty's 60 middle managers are also having leadership training to help them deliver change in their offices. Quarterly workshops bring the whole management team together to share learning.
"We are slowly raising the bar on what we expect from managers and leaders," says Eastmond. "We need to ensure we deliver change in a coherent way across the organisation and demonstrate that we are taking management seriously. Changing culture and some of the behaviours are critical to the change, as is developing new ways of working as we become more fragmented. We face a lot of challenges, so having to respond in a cohesive and coherent way has bought that team together."
He adds that Amnesty's "meetings culture" will be affected by the change. "Maybe we need to become more agile and empower people more," he muses. "Once this is over, the organisation will have physically transformed and we will be a more impactful organisation. We need to do more work on management and getting people to respect and understand why management skills are just as important as human rights expertise."
When it comes to senior leadership, Amnesty hasn't had the easiest ride. In 2010 (before Eastmond's time) it came under fire in the national press for the high severance packages given to former secretary general Irene Khan and her deputy, Kate Gilmore. And the non-profit sector in general is often criticised for the high salaries commanded by CEOs. However, Eastmond dismisses these reports as "fallacious", especially when compared with the huge salaries in financial services.
"I've worked in many sectors and these are some of the most complex jobs you can imagine. You need really great leaders to do this work," he argues. "Pay is already compressed and there are no bonuses. As a sector, we overpay at the bottom, because of our views about fairness and the ratio between top and bottom salaries, and we underpay at the top. Most people will take large cuts to be leaders in these charities. You need great people to make organisations effective. It's a difficult argument to go public on because, when the media get going, you can't win, but I think we in the sector could do a bit more robust challenging."
When Eastmond joined Amnesty about a year and a half ago, HR had never been at the senior leadership table and the organisation was in turmoil. "In the year before I arrived, there had been an 85% turnover in the HR team," he recalls. "The whole organisation was holding its breath on the change programme, waiting for someone to grab it by the scruff of the neck." Eastmond was that someone. He quickly established seven imperatives for the HR and OD departments, which include evolving and sustaining an HR and OD team, partnering with the business to deliver change and developing operational excellence.
"Before I joined, the HR team were the whipping boys, seen to fail to deliver in all areas," he says. "Now, HR is driving the change programme. It was a joy to walk into an organisation where they were crying out for HR to help them through the multitude of issues. HR's stock has risen." He adds that it's often difficult to attract great HR people to work in NGOs because of the challenges and comparatively low pay. As such, the key trait he looks for in his team members is resilience: "It's a tough environment, and we have some sticky issues."
It might be "tough" and "sticky", but Eastmond is clearly buzzing from the scale of the challenge and from the opportunity to work somewhere he's been a member of since he was a student. He recalls his first board meeting. "The first item on the agenda was the strategy for the arms race treaty [Amnesty was a major player in the treaty's signing]. The second was about helping Aung San Suu Kyi collect her Nobel Peace Prize. The third was the HR and change programme. I thought, 'if you can be in a meeting where that is the agenda and HR is number three, what a fantastic place to work'. That's what keeps us going."
Then there's the fact that there is still "a lot to celebrate" in the organisation. "So much great work goes on here," he says. Highlighting this positive work and communicating it internally is one strategy for easing transformation. Internal awards evenings celebrate the good and Eastmond is keen to encourage people out of their silos and sharing knowledge, through events such as lunchtime talks.
"When you bring together the international movement, there is so much we can leverage off each other," he says. "That international solidarity is really powerful." A Great Places to Work Award might be an impossible goal this time, but Eastmond hopes it won't always be: "Coming to work here, the great work we do, the great people we employ, you have to believe what a wonderful place this could be."
Subscribe for the best of HR Management by email: