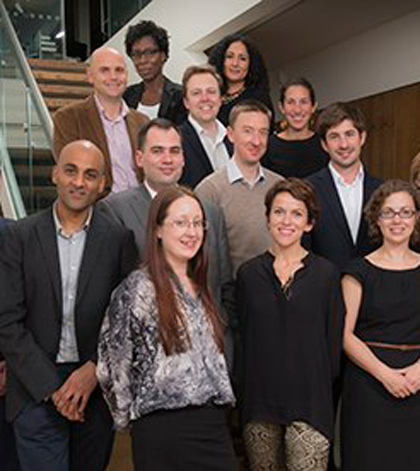 26 Nov

Identifying and developing leadership potential
Clore Social Fellows 2014 group shot. Photograph: Geoff Wilson/©Geoff Wilson 2013
By Dame Mary Marsh – theguardian.com
Over the past four years I have been looking for people with a commitment to making a difference in the world through social action. This week, the 2014 cohort has become part of the Clore Social Fellowship network, marking 83 fellows appointed in total. What is it in this very diverse group that has suggested their potential to develop significantly as social leaders?
The essential element is people being clear and committed to the change they want to make. They are personally grounded and determined. They are open to learning and have a real hunger for change. They are curious about unfamiliar contexts, different people and open to learn about themselves.
Most importantly, they are very different from each other. What matters is their readiness to be self-aware and true to themselves with integrity. They recognise diversity and difference as being positive and shared values of courage, passion, respect and focus are evident.
I look for people who are actively reflective, ready to ask for advice and learn from mistakes. If you know who you are, you will make good decisions about where your leadership is likely to be most successful.
Leadership potential is shown by how people approach the opportunity to connect with others – as demonstrated with the wider Clore Social Fellowship network. Generosity in sharing experience, connections and skills is a good indicator of someone who will attract followers and, in the process, grow leaders among them.
A gap for many people in the social sector is a significant lack of feedback from peers, managers and those they seek to help, support and manage. It has become evident that we would open up and develop much more leadership potential if such feedback was actively part of the way in which we work together.
This lack of feedback leads to many people being uncertain of their strengths, and the power of building on them, while being over-focused on what they perceive as deficits, including, most commonly, a lack of confidence.
I am able to get affirmation about the leadership potential of Clore Social Fellows from their nominators, who have seen them in action. We learn a lot on a leadership journey but far too often this goes unacknowledged (back to the importance of feedback) therefore each time someone takes on a leadership role there is an expectation of this being a new challenge.
Among those applying to be fellows, I am interested in experiences throughout their life, including in their education, social life, volunteering as well as through paid work. Some of the strongest candidates are those who have made the most of such experience, starting from when they left school and without following a higher education route.
Since 2010, in addition to the appointed Clore Social Fellows, I have met more than 140 applicants who have not (as yet) been offered fellowships. And I have spoken to many more other applicants who were assessed but did not get on to the interview list. We offer feedback to everyone.
All those I have met have had some leadership potential. There are a number who have been well placed to get on and make the most of what they are doing already without the need to take up a fellowship. And, on the contrary, there have been those who will be ready in the future for active leadership development after longer and wider experience in the social sector.
It is time we all look for leadership potential across the social sector and actively mentor and coach people to make the most of it.
Dame Mary Marsh is the founding director of the Clore Social Leadership Programme. The full list of the 2014 Clore Social Fellows can be found here.
Subscribe for the best of HR Management by email: