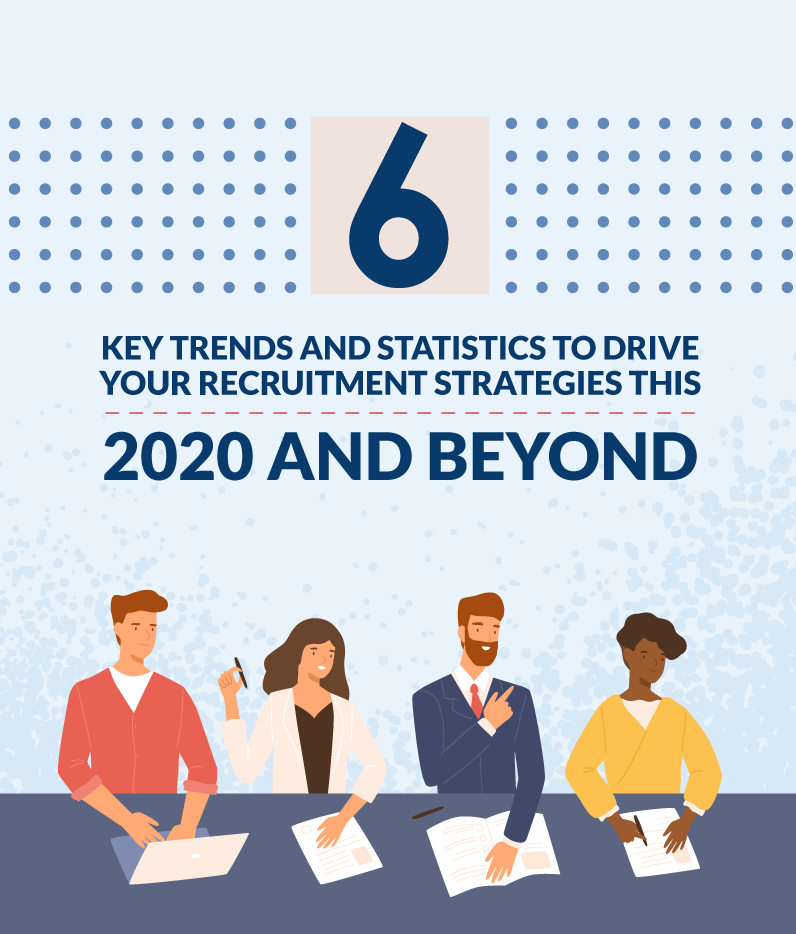 14 Apr

HR 2020: 6 Trends and Statistics That Will Drive Your Recruitment Strategies

The recruitment process has dramatically evolved over the years. Unlike before, when agencies and employers had more control during job applications, candidates of today are far more empowered.

Because of this dynamic shift in the HR industry, the recruitment race is bound to get tougher as time goes by. Taking note of the vital recruitment strategy trends and statistics below can increase your chances of acquiring top tier talent.
The Growing Importance of Recruitment Marketing
In the same manner that marketers attract and nurture leads, recruiters do the same when it comes to talent acquisition. Organizations have realized the importance of employer branding and are starting to integrate various marketing methods in order to attract the right prospects.
When done correctly, employer branding can boost the recruitment experience of your candidates, strengthen your company's reputation, and give you an edge over your competitors.
The Upsurge of Recruitment Process Outsourcing
More companies from around the globe are starting to realize the benefits of partnering with an outsourcing agency.  More than half of 59% of business leaders state cost-cutting as their primary reason for doing so, while the other top factors included improving processes and solving capacity issues.
Recruitment comes with its own fair share of challenges. In case it isn't one of your company's core competencies, partnering with a recruitment process outsourcing agency can fill the necessary gaps in your operations.
The Increasing Relevance of Soft Skills
When screening candidates, evaluating their soft skills is just as important as reviewing their technical competencies—89% of talent professionals claim that most bad hires usually happen because the employees they absorb lack the critical soft skills such as problem-solving, team adaptability, and communication.
If you want to evaluate a prospect's soft skills during a test or interview, you can ask behavioral questions, such as what they would do when given a specific scenario.  This will ensure that the candidate you have is a good fit for the team and the company's culture.
The Implementation of HR tech
Tech companies are changing the recruitment industry bit by bit. Other than task management, payroll, and employee messaging software, recruitment tools and applicant tracking software are now making it easier for hiring professionals to find candidates. In case you need to fill a job vacancy as soon as possible, incorporating HR tech will definitely speed up your whole process.
The Vital Role of Social Media
It's no secret that hiring professionals are making good use of social media. Similar to other recruitment websites, social media channels, such as Facebook and LinkedIn, are powerful hiring tools that allow recruiters and candidates to engage in valuable encounters.
Trends suggest that this tactic will continue to be useful for the years to come. Aside from creating a company account and pinning your job openings on top of your feed, you can switch up your process further by posting in relevant groups, using hashtags, and availing of paid advertising services.
The Candidate's Recruitment Experience as a Defining Factor
Candidate experience deals with the thoughts and feelings of your prospects during the hiring process. In order to grasp how crucial it is, it's essential to see things through the eyes of a businessman. To keep things simple, your ability to provide a pleasant experience may end up defining if a person will close a business deal with you or not.
Apply this same principle to your recruitment efforts. If your candidates have a hard time during the recruitment process, they may end up declining your offer or bounce from the interview altogether. Giving directions to the interview location, providing the necessary materials, and being on time are just a few small things that can make a big difference.
About the Author

SuperStaff is a comprehensive outsourcing solutions provider dedicated to delocalizing your workforce, reimagining your systems and model, and putting cost savings to work to grow your enterprise. Founded in 2009, we launched our suite of services with technical specialist offerings like programming, design, and information technology. We've since expanded to add customer-facing services like customer support, and more recently, recruitment support.
Pem Brook is the Marketing Manager of SuperStaff. Prior to working at Logiscale, he handled a small marketing agency in Los Angeles. In his free time, he pampers his dog all day long.