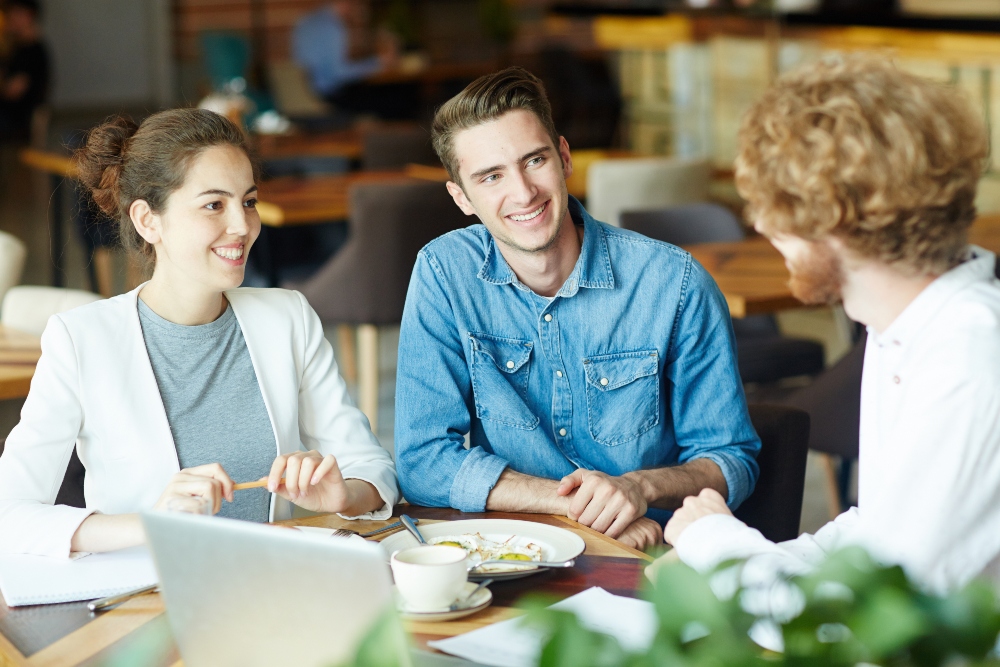 25 Oct

5 Ways To Improve Your Dining Business's HR Department

One must take a lot of hard work to run a successful restaurant. There are a million things to keep track of, from creating menus and hiring staff to dealing with customer complaints. HR falls as one of restaurant management's most important and difficult aspects. They are responsible for hiring and onboarding new staff, maintaining employee records, and ensuring that the workplace runs smoothly. With so much on their plate, it's no wonder that HR managers sometimes feel overwhelmed.

Improving your HR department is a great place to start if you want to take your dining business to the next level. Here are five ways to do just that.
1. Create A Comprehensive Onboarding Program
The first few weeks of a new employee's tenure are crucial. They're getting acclimated to their new job and trying to figure out what their responsibilities are. It's up to the HR department to ensure they have all the information they need to succeed in their role.
A comprehensive onboarding program should cover everything from the restaurant's history and culture to job expectations and proper protocol for dealing with customers. By taking the time to orient your new hires, you'll set them up for success from day one.
Additionally, be sure to give them a point of contact within the HR department, so they always feel comfortable asking questions or raising concerns.
Give out the employee handbook so it can outline the restaurant's HR policies and procedures, as well as the rights and responsibilities of employees. This document will be referenced often, so ensure it is thorough and up-to-date.
Tips on creating an effective onboarding program:
Set clear expectations from the start
Make sure all new hires have a point of contact in the HR department
Give out the employee handbook during onboarding
Go over the restaurant's policies and procedures
Explain the rights and responsibilities of employees
2. Maintain Accurate Employee Records
Employee records are a necessary part of HR but can also be a huge pain to keep up with. With new hires and terminations constantly happening, it's easy for records to get lost in the shuffle.
This is why it's so important to have a system to maintain accurate employee records. This can be as simple as keeping a physical file for each employee or using an electronic database.
A specialized software solution can also be used. It helps in simplifying and automating some of the more tedious aspects of HR, such as tracking employee vacation days and issuing warnings.
Whichever system you use, be sure to track important information such as contact information, job titles, salary, and start and end dates. This will come in handy when you need to reference an employee's history or run payroll. Ensure it is organized and easy to use. This will save you a lot of time and headaches down the road.
Tips for maintaining accurate employee records:
Keep a physical or electronic file for each employee
Track important information such as contact information, job titles, salary, and start and end dates
Organize the records in a way that is easy to use
3. Use Technology To Your Advantage
Technology can be an HR department's best friend. There are now a variety of software solutions that can automate many of the tasks that fall under HR's purview.
For example, an applicant tracking system can help you keep track of job postings, applications, and resumes in one place. This is a huge time-saver when you're hiring for multiple positions.
Onboarding HR software can also be used to streamline the onboarding process. This type of program can help you manage employee paperwork, track training progress, and even store digital versions of important documents.
Other software you should consider incorporating into your HR workflow include:
An attendance tracking system
A performance review tool
An employee scheduling program
4. Implement A Performance Management System
A performance management system is a great way to set clear expectations for employees and track their progress over time. This can be done through regular one-on-one meetings, annual performance reviews, or both.
These meetings discuss the employee's goals and how they are progressing toward them. Give feedback on what they're doing well and areas where they can improve. This will help them stay focused and motivated and give you a better idea of their strengths and weaknesses.
Additionally, performance reviews can document an employee's progress and identify any areas that need to be addressed. These reviews can also help make decisions about raises and promotions.
Different performance management systems can choose from traditional and more modern approaches. Find one that works best for your business, and communicate the expectations to employees.
Tips for setting up a performance management system:
Hold regular one-on-one meetings or annual performance reviews
Give feedback on what the employee is doing well and areas where they can improve
Focus on the employee's strengths and weaknesses
Help the employee stay motivated and focused
5. Foster A Positive Work Environment
The HR department plays a big role in creating and maintaining a positive work environment. This starts with setting the tone during the hiring process and extends to handling conflict resolution and employee morale issues.
The department itself should also be a positive place to work. Employees should feel like they can come to HR with any problem or concern without judgment or repercussions. This open-door policy will foster trust and respect between the department and employees.
You can foster a positive work environment in several ways, such as:
Encouraging open communication
Practicing fair and consistent discipline
Promoting teamwork and collaboration
Recognizing and celebrating employee achievements
Following these tips can turn your HR department into a well-oiled machine. Your employees will be happier and more productive, and your restaurant will run more smoothly. Additionally, the investment in HR will be worth it due to the cost-savings and increase in productivity. Incorporate all these tips to see the best results for your business.
About The Author
Taylor Haskings is a freelance writer born in Denver, Colorado. She graduated with a bachelor's in English from the University of Colorado, Denver. She enjoys hiking in the Colorado Rockies and loves the fine arts, such as playing the violin. Her true strengths include networking with others and expressing herself through the written word.