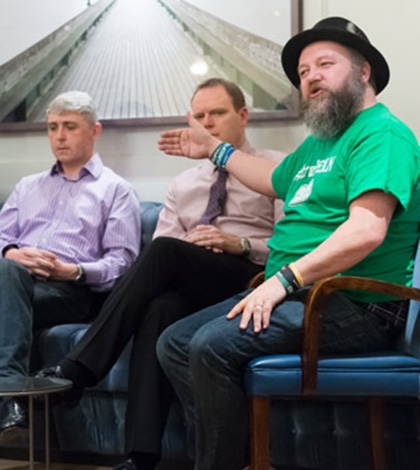 27 Feb

Recruitment data: building the big picture for business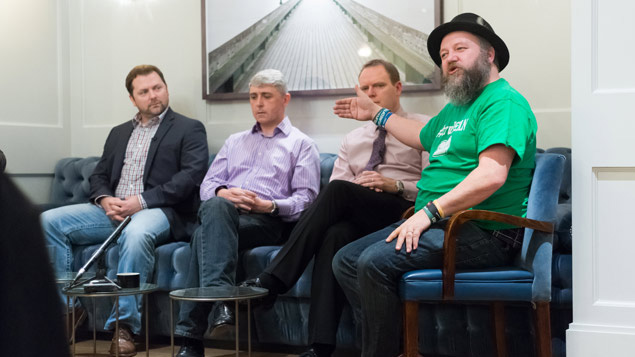 From left: Chris Hoyt, Dominic Barton, Greig Aitken, Bill Boorman
By Jo Faragher – personneltoday.com
HR now has access to more sources of data than ever, especially when it comes to recruitment. But how can organisations use this data to provide insight and be more strategic with workforce planning? Jo Faragher reports.
HR professionals hear all the time about the huge potential of big data. Used insightfully, it drives evidence-based decision making – removing the reliance on "gut feeling" from recruitment – and enabling HR to talk confidently about workforce needs at the highest level.
A recent report by the CIPD in conjunction with Hays found that, in order to future-proof their careers, HR directors would have to build their skills in data and analytics – one in three cited it as a key skill for the coming years.
But with so much data flowing between multiple systems – whether these are applicant tracking tools, job boards, even social media – how is it possible to know which combination of data will offer the most reliable picture?
Meet the panel
Chair, Rob Moss, editor, Personnel Today
Chris Hoyt, director, global talent engagement and marketing, PepsiCo
Greig Aitken, group head, people strategy, insight and change, Royal Bank of Scotland
Bill Boorman, consultant and blogger
Dominic Barton, chief operating officer – US and Asia-Pacific, Broadbean Technology.
To examine these issues and how technology can support better decision making in recruitment, Personnel Today hosted a panel discussion in conjunction with software provider Broadbean. The debate began by looking at the sheer volume of data at HR's fingertips.
What does big data mean to you?
Greig Aitken: The huge data centres organisations currently have, and how to translate that into information and insight, is a constant challenge. The size of them is one thing. The complexity of them means that the old-fashioned way of analysing them is no longer available. Big data comes into its own when you join it up with other bits of data across the organisation.
It is much more powerful when you are able to take attraction information and join it up with your engagement and your retention information. That's I guess, "big, big data" rather than just "big data".
Bill Boorman: When I think about big data, what I'm really thinking about is, how do I turn idiots into analysts? We're trying to take people who have no analytical background, who have no technology background necessarily. We want to be able to turn information into something – how does this stuff make a difference to our business?
Chris Hoyt: HR has had more data over the last few years than they've ever had. I think we're just now, as a function and as an industry, wrapping our heads around what to do with it.
We've been collecting it in pockets for years. We've been managing requisitions; we know how long it takes to find a candidate. Then we manage a difference piece of data when somebody comes on board. I think we've come to a point now, and it's sort of a magical place, that we can tile these things together and get a big-picture story.
How do we get value from these insights?
Dominic Barton: Recruiters don't need more insight into any one part of the recruitment value chain – what they need is an insight across the entire value chain, but nobody wants to give it to you. There aren't a lot of people out there saying: "We can take all the data you have in different places and pull it together into one cohesive whole." That's your first barrier to any form of recruiter engagement with big data.
The second challenge is that, because of the sheer volume, complexity, and diversity of the data, it is very difficult to find the story in the data, to agree that common story with the stakeholders, and thirdly, to communicate that story simply to everyone in the organisation.
Bill Boorman: I could give you a very practical example of that. I worked with an organisation that couldn't hire enough graduates, despite having a strong brand. Everyone was doing their piece in the hiring process – and there were 23 people involved in the process.
It took a long time just to extract the numbers and get the process in a straight line, before we identified the reason – they didn't have enough interview rooms. They physically couldn't do it based on the numbers, because graduate recruitment was the least important thing in the business.
I think that's what the problem is. We have what we need; we just don't have it in any order or any cohesive structure.
How can technology help?
Dominic Barton: We've all been in a one hour meeting where the first 50 minutes are spent debating the data and then the last 10 minutes is spent figuring out what the heck we're going to do. It's really ineffective because everyone is just trying to debate what the most important point is in that data.
What you're trying to do is take seven spreadsheets of data and turn that into a story that can be told effortlessly and simplistically. What BDAS [Broadbean's analytics tool] does is allow managers to tell that story as if the data was all perfectly there. It creates screens that allow you to walk through that story.
It gets everyone on the same page, so they stop spending time crunching data and start spending the time figuring out what behaviours they're going to change and what decisions they're going to make.
Chris Hoyt: We had some shops in some parts of the world that would take three or four days to put together a recruitment report. It was never consistent. Getting all the terminology together and deciding on three or four really hard-line stories that would help change recruiting behaviour, and really helped to drive some of our strategies, was a big win for us.
One of the things we discovered was that 80% of the people that apply to some our external jobs had applied within the first 30 days, but the jobs were actually up for 60 days. We also had a significant gap in the amount of time it was taking us to make the hiring decisions, triple-digit days on average for some cases. We were able to take a hard look at not only where we were spending double, or advertising a job where we didn't need to, but also drill down into recruitment performance by function.
We've seen immediate savings. In one contract, we reduced spend by more than $130,000.
Greig Aitken: You're translating the data into a conversation that could just as easily be had in the marketing or finance community. You're talking about outcome measures not input.
When you talk through that lens, you're having a debate around outcomes that you desire, not about the numbers. If you can trust the data, irrespective of the multiple sources it's come from, the evidence-based HR conversation you're having is about how effective the deployment of the workforce is for delivering business success.
How can recruitment data work with other data sources?
Bill Boorman: One organisation I've worked with [in the US] said the hardest thing was to get access to performance management data for talent acquisition, because these data sets were in different places. They were met with: "Why do you need to know the performance management?" To which they said: "Well, wouldn't it be pretty useful to who our top performers are, because maybe then we could hire a few more?"
I think that thing for me, of actually having [HR data] central, that's the thing that really, really excites me.
Big data is really just about trying to pull together the data that all these people want to talk about, in a way where they can actually have that conversation well." – Dominic Barton, Broadbean
Chris Hoyt: If you're running a talent acquisition organisation, and you work with third-party services or reports, what you typically have to do is rely on them at the end of the year to tell you how well they did. They'll report out to you how awesome they were, and then you'll roll right into your contract negotiation discussions. What we've been able to do is actually flip that where we now report their performance to them.
What's the role of big data in long-term, strategic workforce planning?
Dominic Barton: You need to take a systemic view of your strategic workforce planning rather than kind of operational planning, and there is a difference. A strategic workforce plan is: "How do we get from here to there, and what are the steps that we need to put in place, the interventions to support it?"
Bill Boorman: Equally, [big data can help] you tell the probable source of a new hire. Is the most likely candidate an internal applicant? Or an ex-employee? Or is the role a missing part of the labour pool, so it's more likely to be a contractor?
Big data can help take that function and help HR and recruiters to be strategic and say to the business: "We can help you make a plan."
Chris Hoyt: So a job gets posted, and we pull up some of the metrics around it. We can tell that 47% of the people that viewed that job were female. But when we look at the candidate flow, we can see that 97% of the people that applied were male. So that tells us: "What is it in that job description that's putting off females from considering [it]?"
Dominic Barton: You can also then translate that into other stuff down the line such as talent, succession planning, and management development. For example: "If I move this leader out of here and put them over there, can I pull out some data so that I can see whether it's just that that person was good, or whether they've got inherent capabilities?" That means you need to be thoughtful about the type of skills and competencies and capabilities that you need to address. The bigger the company, the more critical it is that you understand the impact it has.
Bill Boorman: You can make predictions on trends when you've collected consistently the same stuff for a long enough period of time, and you've got a big enough dataset.
Once you've got enough data over a big enough period of time, that's when you can start saying: "Okay, if the same thing happened again by the same ratio, what would be the outcome, if the inputs were the same or if we changed that?" We need to look at the analytics a little bit more.
Dominic Barton: [Big data] is really just about trying to pull together the data that all these people want to talk about, in a way where they can actually have that conversation well.

Subscribe for the best of HR Management direct to your inbox: